Many people were surprised by the spectacular nature, eye to see the Golden Bridge in Da Nang – Vietnames 
Golden Bridge is a new project in Thien Thai garden, Ba Na Hills tourist area (Da Nang) has opened to welcome visitors in early June.
In the midst of the forest, the bridge stands out in yellow. Noteworthy, the attraction is unique architecture with the bridge image is supported by gray hands, creating a beautiful scenery surprised.
The Golden Bridge is more than 1,400 m above sea level, including 8 spans with a length of nearly 150 m. At this height, the bridge looks like a silk strip hiding in the clouds of Da Nang.
Lobelia Chrysanthemum is planted along the pathway on the bridge, creating a focal point of color, attracting the eyes of visitors.
If you are familiar with the Dragon Bridge, Ba Na Hills … this is definitely the break point, bringing new features to the city of Da Nang tourism. Golden Bridge is also a must visit attractions in Da Nang if you want to have pictures "virtual live" real.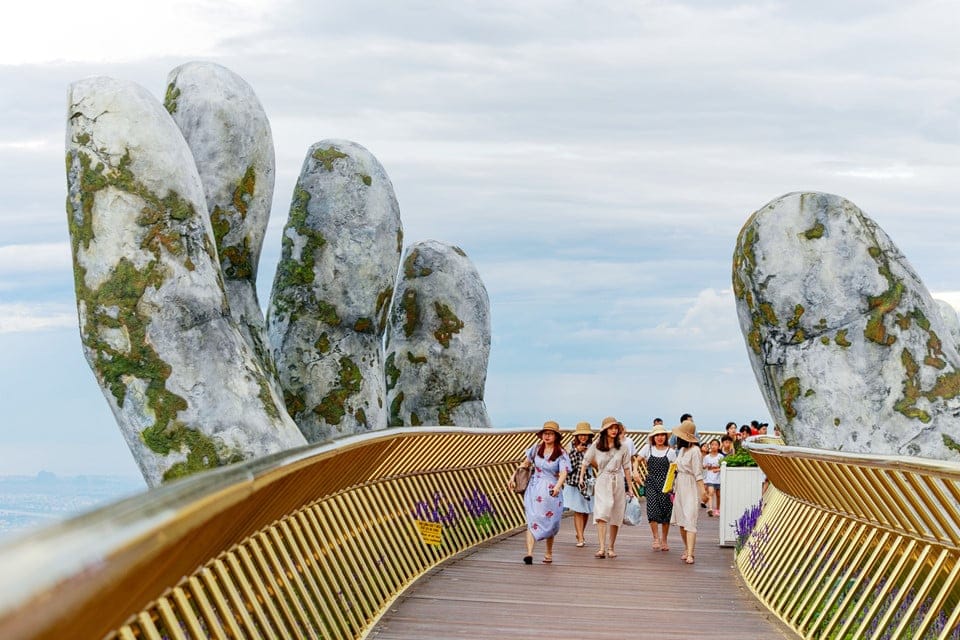 Dropping along the bridge, visitors will feel like walking on the clouds or like the "realms of the future".
The Golden Bridge is the highlight of this summer that many young people love.
Standing on the Golden Bridge, visitors can admire the whole infinite scenery and majestic nature of Ba Na tourist.
Ba Na tourist area in Vietnam
See more videos here – Video Review golden bridge ba na hills